| | | |
| --- | --- | --- |
| Sergio et Stefano Spivach | | |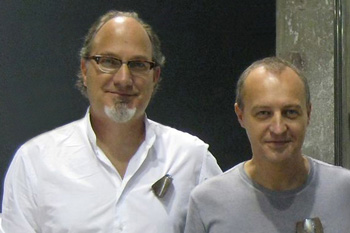 Photo: Stefano et Sergio Spivach
Sergio Spivach 1965 Udine (I)
Stefano Spivach 1959 Trento (I)

Education
1989 Opal cutters in the family workshop
2001 Starting research and experimentation with opal
2006 Starting 'AQA contemporay opals' project
Group Exhibitions
| | |
| --- | --- |
| 2017 | Master Collection / Gioielli in fermento, Ziano Piacentino (I) |
| 2017 | A Flor de Pell, 66 Mistral Gallery, Barcelona (E) |
| 2016 | (Lost) Paradise, ALLIAGES Gallery, Lille (F) |
| 2016 | Selected Stories, OHMYBLUE Gallery, Venezia (I) |
| 2016 | Artist of the month / november 2016, Galerie Slavik, Wien (A) |
| 2016 | Joya, Barcelona (E) |
| 2016 | Dialoghi AGC/JJDA, Livorno, San Felice del Benaco, Padova, Casalmaggiore (I) |
| 2016 | Gioielli in Fermento Premio Torre Fornello, Ziano Piacentino (I) |
| 2015 | Joya, Barcelona (E) |
| | |
| --- | --- |
| 2015 | Premio Fondazione Cominelli, San Felice del Benaco (I) |
| 2015 | Dialoghi AGC/JJDA, Tokyo (J) |
| 2015 | Gioielli in Fermento Premio Torre Fornello, Ziano Piacentino (I) |
| 2015 | Cabinet of Jewellery Marvels, Galerie Slavik ,Wien (A) |
| 2014 | Joya, Barcelona (E) |
| 2014 | Gioielli in Fermento Premio Torre Fornello, Ziano Piacentino (I) |
| 2013 | Onòff / Ring Party Premio Cisotto, Padova (I) |
| 2013 | Joya, Barcelona (E) |
| 2013 | Venice Jewellery Week, Venezia (I) |
| 2013 | Gioiello in Arte, Università Nobil Collegio, Roma (I) |
| 2013 | Ring Party, TRA Treviso Ricerca Arte, Treviso (I) |
| 2011 | Forma vs Materia, Galleria Cristiani, Torino (I) |
| 2008 | Kara, Paris (F) |
| 2007-2012 | 2012 Inhorgenta, Design Pavillon, München (D) |
| 1989-2009 | 2009 VicenzaOro, Vicenza (I) |
Awards
2014 Gioielli in Fermento Contest, Menzione Speciale AGC, Ziano Piacentino (I)
2013 Onòff / Ring Party Premio Cisotto, Prima Menzione Onorevole, Padova (I)
2008 Kara, Coup de Coeur de Kara Contest, Paris (F)

Gallerys
Alternatives Gallery, Rome, I
Ohmyblue Gallery, Venice, I
Galerie Orfèo, Luxembourg, L
Galerie Slavik, Vienna, A
SERGIO SPIVACH | STEFANO SPIVACH
Our contemporary opals began in 2006; a project that is a direct result of our work and research into opal which started in 2001 thanks to our beloved father. Having established our workshop in 1989, through our experience and work we have developed a new awareness and understanding of our material which has allowed us to refine our technique and enhance our knowledge and expertise.
Experimenting with new aesthetic forms and techniques, we have been able to work with the raw material in such a way as to bring it to a contemporary level. Free from the shackles of convention, our pieces evolve organically through the creative process, taking their form as we carve and shape the stone.
Opal sculptures to be adorned and touched, resulting in pieces that are direct expressions of ourselves, our character and love for our craft.

STATEMENT
Opals are subversive stones because they do not inherently give out any point of reference. We look at them, listen to them, touch them and their evolution in form is a direct expression of our character and feelings.
We enjoy this implicit freedom and the fact that opals can be easily approached and reinvented. Changes in the colour range are overwhelming and amplify research possibilities of the form itself.
When you cut a stone, it is as if you were cutting into a whole world. Working on a stone makes every gesture final. This is why it is essential to devote the necessary time to each specific aspect of the stone. Our care for detail is absolute and we dedicate the utmost attention to each raw opal.
Our research is constantly evolving and each work naturally reaffirms the inevitable beauty of opals with their unpredictable surfaces: sometimes rough, as life can be; sometimes renovated in surprisingly sinuous and smooth textures.
Unusual, soft shapes interact with other materials such as silver, bronze and resin, even if they are always complementary to the opal.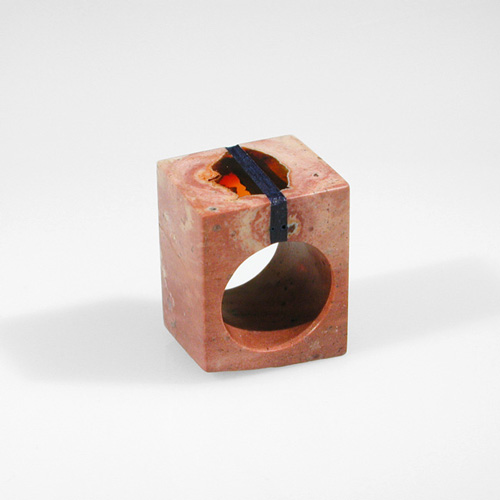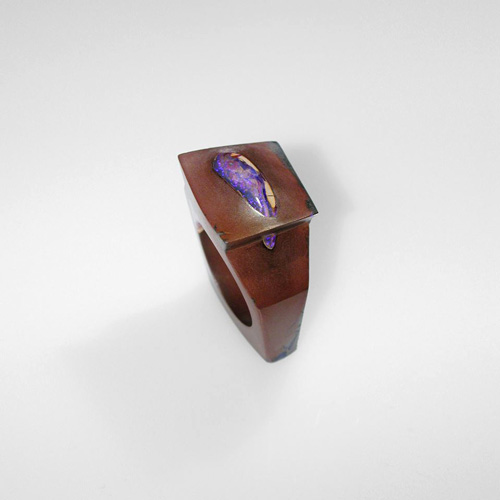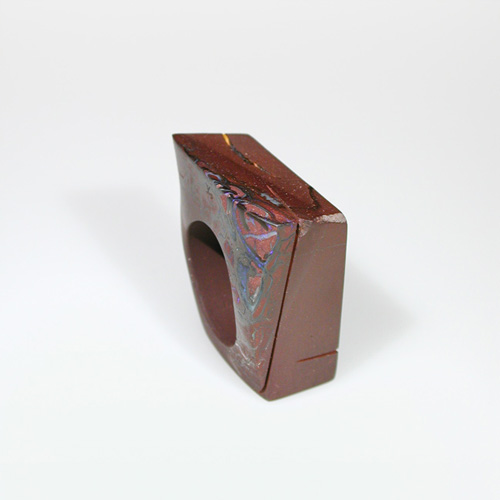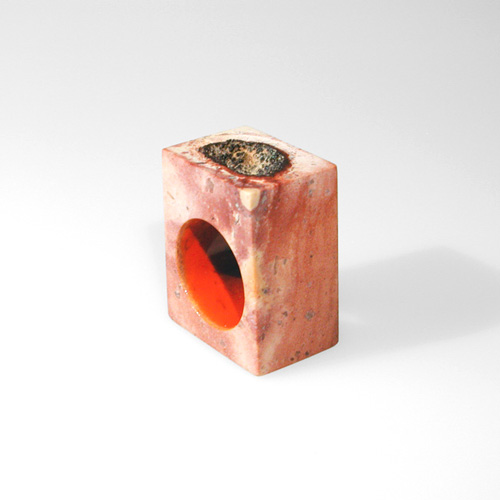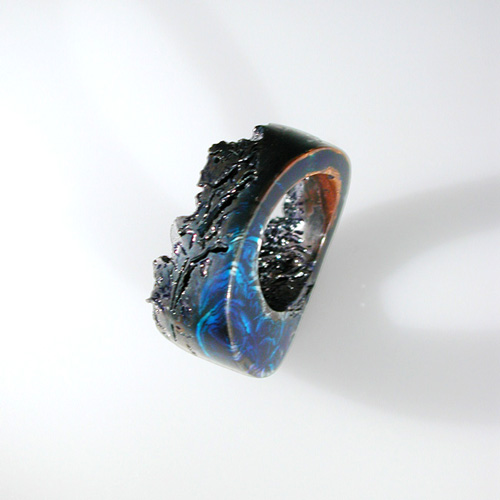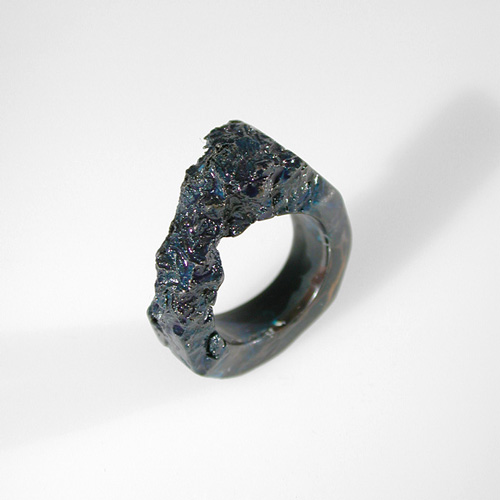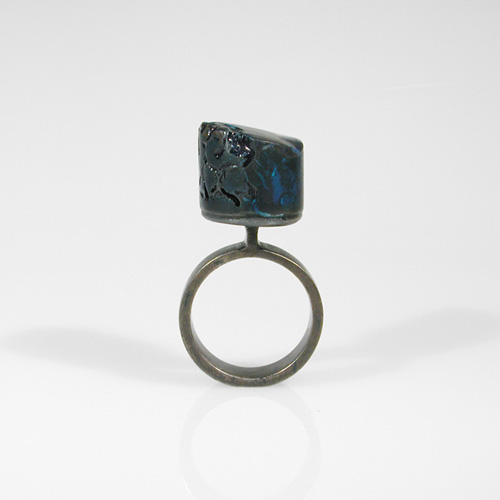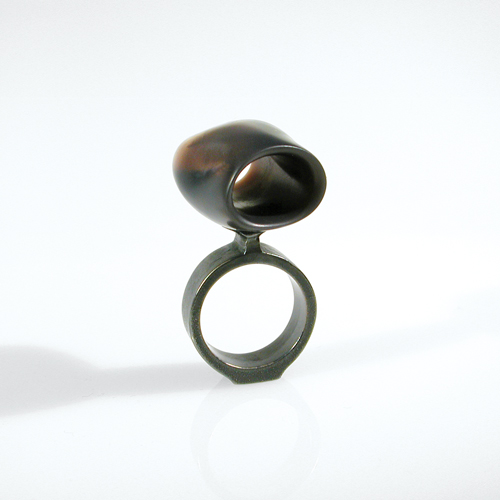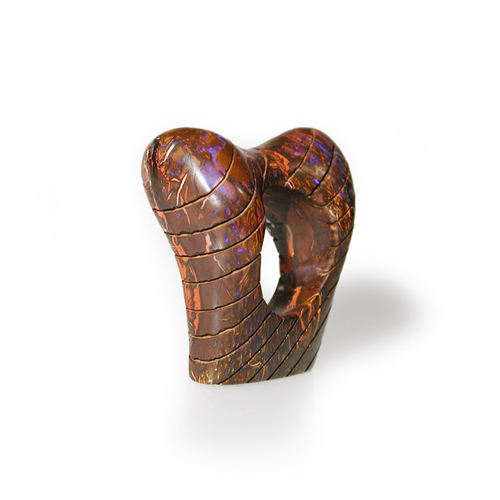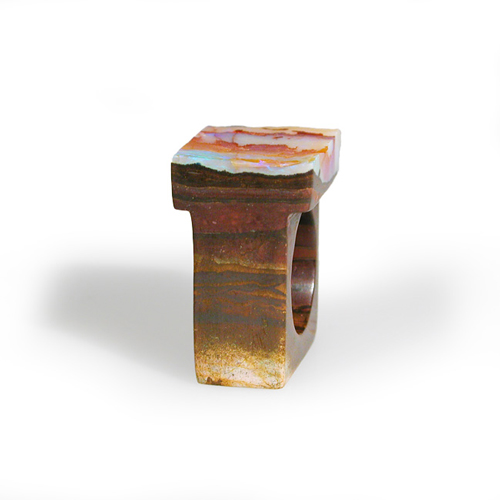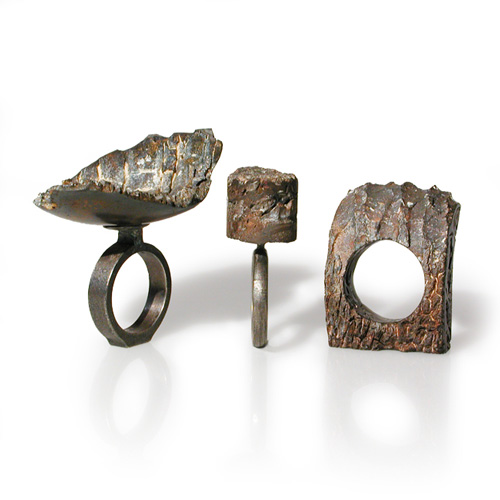 L'arcangelo in pezzi - il corpo, il cuore e l'ala