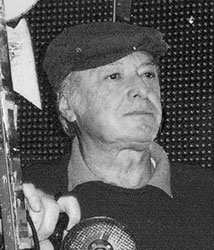 BIOGRAPHICAL NOTES ABOUT ANDREA GABBRIELLINI

Andrea Gabbriellini (Pisa, Italy, 1933) is a painter who is known for his eclecticism which has led him to make avant-garde artistic operations, experimented through a spontaneous sensuality and a restless conceptual research. His career develops from an initial figurative period to the most extreme consequences of an an-iconic approach.
The artist bases his applications upon various systems of elements which form expressive structures, temporally variable, giving rise to a story and a title for the various seasons that he calls "cycles": Solitudini, Giardini, Simboli, Andromeda, Pagine, Incantesimi, Spazi necessari, Barriere, Frantumazioni etc. (Solitudes, Gardens, Symbols, Andromeda, Pages, Necessary spaces, Barriers, Shatterings etc.).
Gabbriellini has had over 40 personal exibitions in various places in the world, among which: Florence 1965, 1967, 1990, 2004 – New York, 1968 – Venice, 1971- Paris, 1975 and 1997 – Pisa, 1969, 1974, 1986, 1991 – Salzburg, 1995 – Los Angeles, 1996 – Luxembourg, 1994, 1998, 2001 – Bologna, 1998, 1999 and Milan, 2004.
He has taken part in numerous national and international displays and has obtained prizes and prestigious acknowledgements in many of them. Among these the INPS Prize at the Palazzo della Quadriennale, Roma, 1963 – The national Prize "del Fiorino", Palazzo Strozzi, Florence, 1965 – The Exibition of Italian Art at The Art Space, New York, 1965 – The Biennial of Engraving and Original Drawing at Palazzo della Ragione, Padova, 1966 – The Panorama of Contemporary Graphics at the Puskin Museum, Moscow, 1972 – The 5th International Biennial at Reales Atarazanas, Barcelona, 1975 – The Bidart, Bergamo 1989, 1990, 1991, 1994 – The Siac, Florence, 1989, 1990 – The Artefiera, Bologna, 1990, 1992, 1993, 1998, 1999, 2000 – The Arteroma, Palazzo dei Congressi, Rome, 1990, 1991, 1992 – The Biennial of Contemporary Art at Palazzo Nervi, Turin, 1990 . The Biennial of International Art, Milan 1991 – Artexpo, New York 1995 – Lineart, Gent, 1996 – Art Cologne, 1998 – The International Exibition inaugurating the Museum of Contemporary Art, Arezzo, 2003.
In 1991, 2003 and 2004 three public exibitions were dedicated to him by Pisa Town Council at Palazzo Lanfranchi, Pisa, by Pontedera Town Council at the Art Centre and by the Tuscan Regional Council at Palazzo Panciatichi, Florence.
Among the numerous art critics who have taken interest in his work are: Fortunato Bellonzi, Dino Carlesi, Enzo Carli, Gillo Dorfles, Giovanni Faccenda, Francesco Filippi, Giorgio Di Genova, Nicola Micieli, Tommaso Paloscia, Franco Russoli, Luigi Servolini, J.P. Schneider, Vittorio Sgarbi e Mark Tibbet.

His name appears in many of the most important post-war bibliographic works, encyclopaedias and documentaries.
His works are to be found in various Museums and Public Art Collections around the world.
In the 90s the art historians Enzo Carli (Catalogo) and Tommaso Paloscia (Accadde in Toscana) included Gabbriellini among the most significant Tuscan visual artists of the last 30 years of the 20th century. In 2004 the critic Giovanni Faccenda, director of the Museum of Modern and Contemporary Art in Arezzo defined him as a protagonist of the present Italian artistic season.

Gabbriellini lives and works in Via Napoli,4 – Pisa (tel. and Fax: ++39-50-551781) and in his summer residence in Lido di Camaiore (Lucca), Via Gioberti, 10 (tel. ++39-584-610185).

Reflection about my work
…I regret that I have occasionally found some difficulties in anchoring my thoughts in the action space, which is still a virtual space, the space for dreaming. In this space, which thought itself creates, freed from elements which have been refused, become EMPTY, become NOTHING, I find it easy to think through images (sometimes connected to concepts and in other moments – even better- detached from them) and to find places of purity inhabited by presences which do not confront one another. Presences which have the same colours of the inhabited space, silent, pure, white, intact, red, blue, pink, green, yellow – better still of the same colour , but even two, three (apparently different but with the same destiny), living inhabitants of the living space. In this way a miracle occurs in the discovery of "something" to express, "something" that is nearer to the truth, hidden truth, jealous truth, for an eternal form of painting.