Curriculum Vitae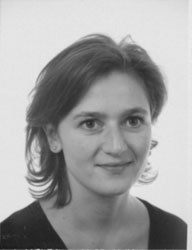 Born: 06/01/1975 – Wilrijk (B)

Education

1998-2000: MA – Goldsmithing, Silversmithing, Metalwork and Jewellery at the Royal College of Art, London (UK)
1997-1998: Technical apprenticeship at the Istituto Statale d'Arte, 'Pietro Selvatico', Padova (I)
1993-1997: BA – Department of audiovisual and Fine Art, Option Jewellery and Silversmithing at the Koninklijke Academie voor Schone Kunsten, Antwerpen (B)
Teaching

2001 – : Department of Jewellery and Metalwork at the Koninklijke Academie voor Schone Kunsten, Sint-Niklaas (B)
Other Employment
2000 – 2001: Designer for the collections of 'Damiani' and 'Salvini' – Casa Damiani, Milano (I)


Exhibitions

2003: Sofa Chicago (USA)
2003: Group exhibition (in collaboration with Stefano Marchetti and Stephanie Jendis), Gallery Marzee, Nijmegen (NL)
2003: Sotheby's 2003, CDA, London (UK)
2002: Schmuck 2002, Munich (D)
2002: Sofa Chicago (USA)
2002: Group Exhibition (in collaboration with David Huycke), Gallery Sofie Lachaert, Tielrode (B)
2001: Group Exhibition, 'Sieraden, de keuze van Apeldoorn', Van Reekum Historical Museum of Apeldoorn (NL)
2000: Group Exhibition , Graduation show 2000, Gallery Marzee, Nijmegen (NL)
2000: Group Exhibition, 'The Show', Royal College of Art, London (UK)
2000: Group Exhibition, Goldsmiths Craft and Design Award exhibition, London (UK)
1999: Group Exhibition, 'Table de fin de siècle', Gallery Sofie Lachaert, Antwerpen, (B)
1998: Group Exhibition, Gallery Sofie Lachaert, Antwerpen, (B)
1997: Group Exhibition, 'Ringen', Gallery Ademloos, Den Haag (NL)
1997: Group Exhibition, Graduation Show 97, Gallery Marzee, Nijmegen (NL)
1997: Group Exhibition, 'Cel 30', Gallery Sofie Lachaert, Gent (B)
1996: Group Exhibition, ' Joint Jewellery Design Display', Taipei, Taiwan
1996: Group Exhibition, ' Het Belgisch diamantjuweel 1996', Provincial Diamant Museum, Antwerpen (B)
1995: Group Exhibition, 'Bijoux Contemporains', Musée d'Art Moderne et d'Art Contemporains, Nice (F)Public Collections
2002: 'Curl necklace', Kruithuis Museum (NL)
1999: 'Cube Ring', Kruithuis Museum (NL)


Awards

2003: International 'Diamond High Council' Award, Finalist
2002: 'Henry Van De Velde'Award for best Product of 2002
2000: Goldsmiths Craft and Design Award, Fashion Jewellery
2000: Nicole Stöber Memorial Award
2000: The Royal College of Art Society and Waterstone Prize

Publications (each time as subject)

2003: Goud En Zilver – Metropool, bijlage Gazet Van Antwerpen, issue February
2002: Henry Van De Velde Award, De Standaard,issue december
2002: New crop – Beople Magazine, issue april
2002: Gallery Sofie Lachaert – Financieel en Economische Tijd, issue march
2002: Young talent - Kwintessens, issue march
2000: Look out for Salima Thakker – Crafts Magazine, issue november
2000: Gallery Sofie Lachaert – De Morgen newspaper, issue 1 december
1998 : Young Talent – Weekend Knack Magazine, nr 50 – issue 9/15 december 98

I never put my ideas down on paper, I always proceed directly from the material, experimenting, making large numbers of samples, searching for forms, movements or surfaces that excite me.
It is a system of trial and error where I find my inspiration.
In the past, this has led to a series of ornaments that radiate self-assurance, by joining together numerous small wedge-shaped elements suggesting animal scales and spines. It's a series of intriguing pieces, their ingenuity only becoming really clear the moment they shed their apparent solidity and fluidly trail across and snake around a neck, wrist or finger, following the movement of the body, as though actually a second skin.
To avoid the proces of creating to become a proces of constructing, I always try to look for new approaches. Starting points can also be a very elemental action such as cutting, folding or bending, all leading to deformation and distortion; adding vitality and tension to regularity.
Each piece is an exploration and exploitation of the extremes and limits of the material.